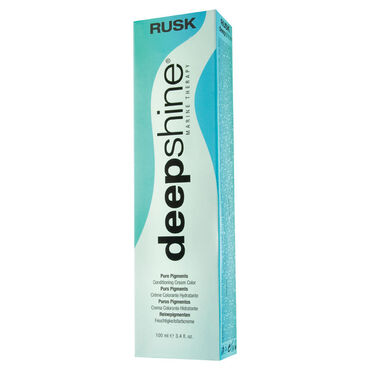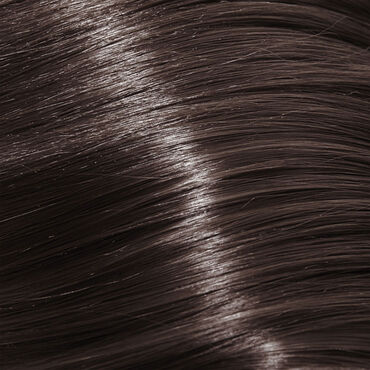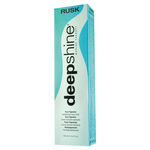 Scroll to Zoom
Pinch to zoom
Bulk Deal
Across Rusk Deepshine Direct, Deepshine Demi, & Deepshine Permanent Tube Colour Range
Buy 50 or more tubes save 40%
Buy 100 or more tubes save 50%
Mix & match
Features & benefits
Micro pure pigment technology for deep colour penetration
Advance marine therapy for improved condition and shine
Colours are inter-mixable for unlimited results
Up to 100% grey coverage
Standard mixing ratio 1:1 1/2
Colour:

3.000NC Dark Brown

1.000NC Black

2.000NC Darkest Brown

3.000NC Dark Brown

4.000NC Medium Brown

5.000NC Light Brown

6.000NC Dark Blonde

7.000NC Medium Blonde

8.000NC Light Blonde

10.000NC Ultra Light Blonde

5.003NW Light Brown

6.003NW Dark Blonde

7.003NW Medium Blonde

8.003NW Light Blonde

9.003NW Very Light

10.003NW Ultra Light

6.13B

6.13B Dark Beige Blonde

7.13B

7.13B Medium Beige

8.13B

8.13B Light Blonde Beige

9.13B

9.13B Very Light Beige

5.3G

5.3G Light Golden Brown

6.3G

6.3G Dark Golden Blonde

7.3G

7.3G Golden Blonde

8.3G

8.3G Light Golden Blonde

9.3G

9.3G Very Light Gold

6.43CG Brilliant Copper

7.43CG Copper Golden

4.4C

4.4C Deep Copper

5.4C

5.4C Copper

6.4C

6.4C Brilliant Copper

7.4C

7.4C Copper Blonde

7.44CC Intense Copper

7.64RC Red Copper Blonde

4.5M

4.5M Deep Mahogany

6.5M

6.5M Brilliant Mahogony

5.55MM Intense Mahogany

5.56MR Mahogony Red

5.6R

5.6R Red

6.6R

6.6R Brilliant Red

7.6R

7.6R Medium Red Blonde

6.66RR Intense Brilliant Red

7.66RR Intense Red Blonde

4.62RV Deep Red Violet

2.2V

2.2V Darkest Violet

5.22VV Light Intense

4.8CH

4.8CH Medium Chocolate

6.8CH

6.8CH Dark Chocolate

7.8CH

7.8CH Medium Caramel

SL00N

SL00N Neutral Blonde

SL01A

SL01A Ash Blonde

SL03G

SL03G Golden Blonde

SL13B

SL13B Beige Blonde

TAC

TAC Triple Action Clean

Y

Yellow

O

Orange

R

Red

V

Violet

B

Blue

G

Green

4.03NI Medium Brown

5.03NI Light Brown

6.03NI Dark Blonde

7.03NI Medium Blonde

8.03NI Light Blonde

9.03NI Very Light Blonde

10.03NI Ultra Light Blonde

8.8CH

8.8CH Light Caramel

10.13B Ultra Light Blonde

6.62

6.62 Brilliant Red Violet

5.62

5.62 Red Violet

10.11AA Intense Platinum Ash Blonde

9.11AA Intense Very Light Ash Blonde

8.11AA Intense Light Ash Blonde

7.11AA Intense Medium Ash Blonde

6.11AA Intense Dark Ash Blonde

1.10BB Intense Blue Black
Rusk Deepshine Colour includes vibrant and intense shades for longer-lasting results and maximum grey coverage. The unique formula conditions as it colours ensuring consistent, reliable and predictable results. Rusk Deepshine is a pure-pigment conditioning cream hair colour that gives luminous, translucent and natural looking results with radiant shine.

Rusk connects fashion and hairdressing, showcasing new hair trends and inspiring creativity. Using advanced technology for improved condition and intense shine Rusk colours have been designed to give deep colour penetration, superb coverage and long lasting results. From beautiful classic shades to the latest colourful fashion looks, with Rusk the possibilities are endless.
RUSK Deepshine colour, professional cream colour providing up to 100% grey coverage, incredible shine and long-lasting results. Standard mixing ratio of 1:1 1/2.

For example 50ml of Rusk deepshine colour + 75ml Rusk 20 Vol cream developer, apply mixture immediately and develop for 35 minutes for standard applications.
Aqua (Water, Eau), Cetearyl Alcohol, Ceteareth-30,Isodecyl Oleate, Propylene Glycol, Beeswax, Ammonium Hydroxide, P-Phenylenediamine, Cocamidopropyl Betaine, Polyquaternium-22, Edta, Ascorbic Acid, Sodiumhydrosulfite, Hydrolyzed Rhodophycea Extract, Sodium Methylparaben, Butylene Glycol, Hypneamusciformis Extract, Methylparaben, M-Aminophenol, Resorcinol, 2-Methylresorcinol, N-Phenyl-P-Phenylenediamine Sulfate, Parfum (Fragrance).
Featured Products
Customer Reviews
100% of customers liked this product
Posted
Comment
I bought all the time for me and my little girl, she is 6 years old
Rusk products are salon quality Great for condition and shine..the best These products will give you lovely shiny hair
I always use these products.. As each time they consistently do the same thing.. Condition and shine..
always used it on my hair plays 3 years and it lasts well and doesn't need seem to damage my hair
Great product, won't use any other.