Salon System Marvelash Eyelash Extensions Course
https://www.sallybeauty.co.uk/ie/training/beauty-training-courses/salon-system-marvelash-eyelash-extensions-course/999633_00043_03-NOV-2020.html
Salon System's Marvelash technique teaches students how to thicken and lengthen lashes, offering immediate results that will last for up to 2 months. ...
Read more
Online Courses Available...
Due to safety concerns with Covid-19, our face-to-face training courses are currently unavailable. Don't worry, we have you covered with our new online accredited courses, allowing you to learn a new skill at your own pace. Click Here to find out more.
What to expect when booking this course
Once you have booked your training course, you will receive an email confirmation containing the details of your course, terms and conditions along with what items/tools you will need to bring. You will need to arrive at your chosen training course location 15 minutes prior to the course start time. A model may be needed to work on during the Training Course, so please check with the hosting store for further detail.

Once booked, you cannot cancel your place on the course. If you fail to attend a booked course you will not be entitled to a refund or offered an alternative course.
Recently Viewed Products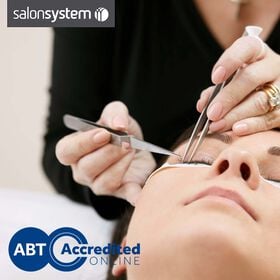 <style> .pdp-form_wrapper.pdp-training_wrapper, .availability-notavailable, .availability-instock,.variation-list {display:none !important;}</style> Salon System's Marvelash technique teaches students how to thicken and lengthen lashes, offering immediate results that will last for up to 2 months. The course is suitable for the complete beginner or for those wishing to update their skills.<br> <br> <b>Top Features</b><br> <ul><li>Marvelash treatment, express procedure, maintenance, rebalance and safe removal </li> <li>Troubleshooting, promotional and marketing advice</li> <li>Client consultation, contra-indications and client care</li></ul><br> <b>Key Learnings</b><br><ul> <li>Understanding of the Marvelash brand and its products for semi-permanent eyelash extensions</li> <li>The skills and knowledge to successfully perform the treatments</li> <li>Health and safety knowledge, aftercare advice for the client and troubleshooting</li> </ul>