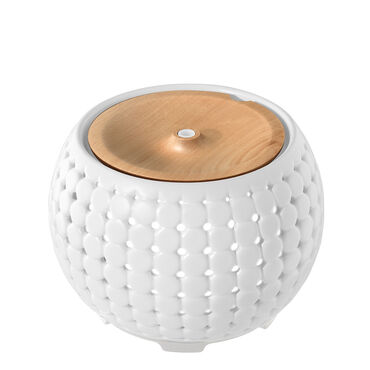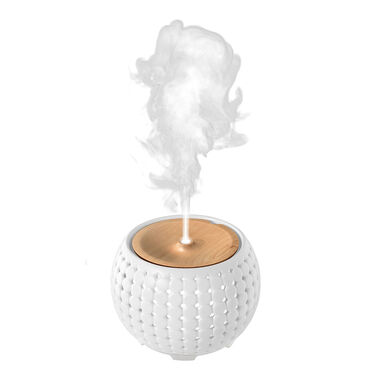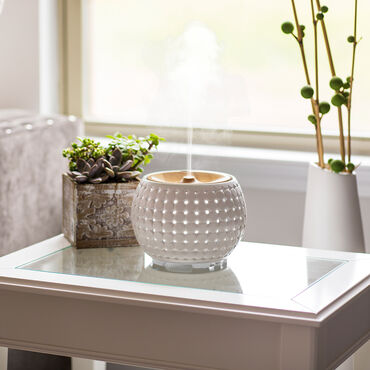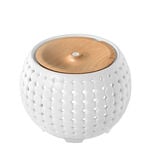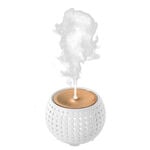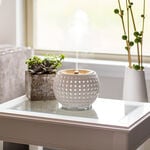 Scroll to Zoom
Pinch to zoom
545583
Ellia HoMedics Gather Ultrasonic Diffuser White
In Stock
Delivery Lead Time:

Available for next day delivery
Transform your space with the soothing scents, sights and sounds of the Ellia Gather Diffuser
Consciously crafted from natural frosted glass and wood
Translucent frosted case emits a gentle glow for a peaceful environment
Up to 10 hours continuous or 20 hours intermittent run-time
Read more
Description
Transform your space with the soothing scents, sights and sounds of the Ellia Gather Diffuser.
Thoughtfully crafted into a beautiful basket weave design from natural materials, the Gather Ultrasonic Diffuser complements every home setting with a subtle and holistic design. Simply fill with water and add 6 -7 drops of your chosen essential oil. Leave to diffuse for up to 10 hours continuously and let the soft glow from the mood lighting soothe your body and mind with a scent that never melts away.
For ultimate relaxation, your Ellia Gather Diffuser invites you to take your wellness to a new level. With a convenient remote control to flick through lights, sound library and diffusion settings, you can create your perfect environment at the touch of a button.
Directions for Use
1. Remove the outer cover from the base. Next, remove the inner cover.
2. Pour water into the reservoir until it reaches the max fill line, then add 5-7 drops of essential oil to the water. Depending on your personal preference, you may add more or fewer drops of essential oil.
3. Put the inner and outer covers back on.
4. Plug the adapter into the diffuser, then plug the adapter into an outlet. Use caution when plugging the unit in to avoid spilling water and essential oil.
5. Choose your aroma mist, light, and sound options.
Your remote uses a CR2025 Lithium 3V Battery. Make sure to remove the pull tab before use.
Your diffuser has two mist options. Press once for continuous mist, which will run for up to 10 hours. Press again for intermittent mist (30 seconds on, 30 seconds off), which will run for up to 20 hours. Press a third time to turn the mist off. Press and hold to turn the diffuser off. When your diffuser runs out of water, it will automatically shut off.
Color-Changing Light: Press once to turn on the color-changing light. Press again to stop on a preferred color. Press a third time to turn the light off.
Light Brightness: While the light is on, press once for medium light. Press again for low light. Press a third time for bright light.
Relaxing and Uplifting Sounds: Press once to play the first track. Press again to switch to the next track. Press and hold to turn the music off.
Power Button: Press once to turn on aroma mist and color-changing light. Press again to turn the light off. Press a third time to turn the mist off.
Warnings
DO NOT use while bathing or in shower. Keep dry - DO NOT operate in a wet or moist condition. DO NOT use water above 30 degrees Celsius. Use this appliance only for its intended use as described in this manual. Always place the humidifier on a firm, flat, level surface. NEVER use humidifier in an environment where explosive gases are present. DO NOT place the humidifier near heat sources, such as a stove and do not expose the humidifier to direct sunlight. To disconnect, turn all controls to the OFF position, then remove plug from outlet. This appliance is designed for personal, non-professional use only. DO NOT overfill with water. Never use detergent to clean the diffuser that is not recommended by the manufacturer. Never scrape the diffuser with a hard object to clean. If the supply cord is damaged, it must be replaced by the manufacturer, its service agent or similarly qualified persons in order to avoid a hazard. Unplug the appliance during filling and cleaning
Read the reviews
100% of customers liked this product
Looks great, does exactly what it says.
We think you'll also love