How do I enrol for online training?
1. Purchase your course. You can browse all courses here.

2. You should receive email confirmation of your enrolment onto your course from the course provider (this should be within 48hrs of booking, excluding weekends & Bank Holidays).

3. For courses that include starter kits they will be posted out alongside an access code to the online learning platform by the provider. For all other courses your training provider will let you know when you will receive access to the pre-course work- it should be roughly a week before your course is due to begin.
4. Complete all your pre-course work: this will include reading material, video content, step by step tutorial videos and quiz assessments.

5. Attend your live webinar session

6. You will receive notification of your result and an accredited certificate when you pass your course.
Why train with Sally Beauty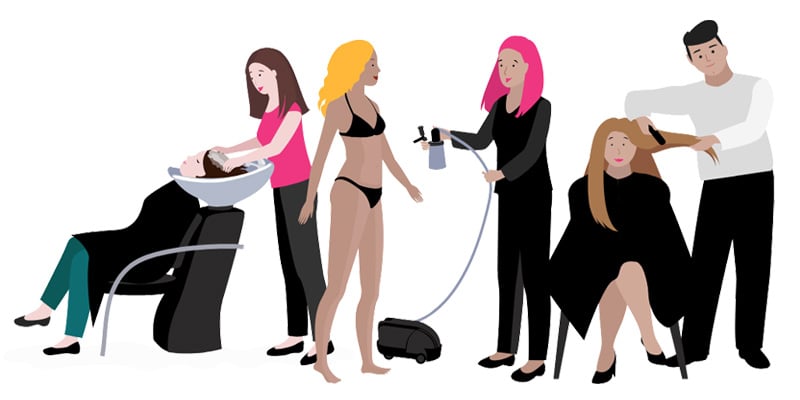 Training for over 15 years

With over 15 years worth of experience, you can guarantee that we're experts in our field and you will receive high-quality training from trained professionals.

CPD standard courses:

Our courses are CPD standard, meaning you can be sure you're receiving the highest quality training from the professionals.

For all levels beginners to advanced

Whether you're looking for training to kickstart your career, learn a brand new skill or refine those you have, we'll have the course for you.
Frequently Asked Questions
What happens if there is an issue with my starter kit?
The kit is supplied by our third party partner Lash FX for these courses and they will deal with any issues regarding the kits with you directly. You should have received all the details on the steps you need to take to resolve an issue in you course confirmation email.
We advise you to thoroughly check your kit once you have received it & notify Lash FX if there is any damage or missing items before starting your course. For a full list of what should be included in your kit please check the prospectus
Is the Brow Lamination course suitable for beginners?
The actual process of brow lamination is absolutely fine to teach beginners but we would advise some brow shaping experience may be required to perfect the looks as complete beginners may struggle to achieve the results they would like without this prior experience.
What happens if Covid-19 restrictions change in my area and I am unable to get a model to complete my course?
We have ensured that all the online courses are to be completed at your own pace to help alleviate some of the pressure as unfortunately, we are all living through uncertain times at the moment. If local restrictions do get in the way of your studies we would advise you to wait until restrictions have been lifted for your area before continuing.
If you have already booked in a time slot for you practical webinar then we would advise you to contact the course provider to discuss your options as under usual circumstances there is a booking amendment charge of £20. If you are unable to attend due to legal restrictions as a result of the current pandemic we will try and offer you an alternate assessment date with the booking amendment charge wavered where possible.
What happens if I don't pass my webinar assessment?
In the rare event that you don't pass your assessment then you will be required to carry out and submit further case studies before receiving your certificate. If you would like to complete an additional webinar assessment this is possible but there is a £40 (excluding VAT) charge for every additional half an hour with the assessor.
Will I still have access to the online learning platform once I have completed my course?
No, once your course has been completed you will no longer be able to access the online learning platform. However you will have the opportunity to download all the relevant manuals as you work your way through the course to review at a later date if preferred. Do the courses still hold the same accreditation as it's no longer been taken face to face? Yes, they do, due to the current pandemic and government guidelines the main accrediting bodies have relaxed the rules on accreditation providing the course includes contact with a professional educator through a webinar system.
Do you need any previous experience to sign up to the courses?

All students must be at least 16 years old.
Do the courses require you to have a model?
Yes- all students are required to have a model during the live webinar, they should be:
• At least 16 years of age
• For the online threading brow models must be make up free and have a minimum of 3mm facial hair.
Do I have to purchase the kit items to take part in the course?
Yes- all students must purchase the relevant kit items to use during the live webinar. Please note that some of the items may already be salon essentials so there is no need to purchase more if you already own them. There are also some optional items for specific courses that you can purchase additionally if you would like. All compulsory and additional kit items are listed on the relevant course product page or the course prospectus available
Do I have to complete the pre-course work before the live webinar?
Yes all pre-course work must be completed before attending the live webinar. You should receive access to the work via email a week before your live practical session with a guide of how long it should take to complete. If you haven't received the email (and it's not in your junk folder) we advise you to contact the course provider to check your details are correct.
Can I re-arrange or cancel the date of my live webinar?
If you need to change or cancel the date of your live webinar within 14 days of it taking place there will be a booking amendment charge of £20. If you are unable to attend due to legal restrictions as a result of the current pandemic or are unable to bring another person into your home as a result of COVID-19 or any other personal emergency out of your control, the course provider will try to offer you an alternative webinar date with the booking amendment charge waivered where possible.
How long will I have access to the online training portal for?
After your webinar you will continue to have access to the online learning portal, valid for 1 year. Students will also have FREE access to monthly LIVE Webinar Q&A sessions for 6 months after the course for continued support. Please note that this is bookable on Training Solutions website once your course is complete.
Do you know when face to face courses will become available again?
We are excited to announce that a selected number of face-to-face training courses are expected to resume in the new year. These will take place across a limited number of our training venues in the UK. Look out for further details to follow.
Is it possible to hire out a training room in one of your stores?
Unfortunately this is not currently possible but we will keep you updated on when the service will be next available.
I am part of a college/salon interested in training on my premises, is it possible to arrange this?