Daylight Company Duo Floor Lamp
Overview
56 high-quality bright daylight LEDS-Provide accurate colour matching
Touch switch dimmer with 4 brightness levels
Lamp brightness: 2,090 Lux at 30cm (12")
Cable length: 1.8m (68.9")
Description
This slim, flexible floor lamp has a modern design and sleek finish with a flexible arm to direct light exactly where you need it. It has two independently adjustable shades allowing high light output over a very wide area or an intense light over a small area. 56 high-quality bright daylight LEDs provide accurate colour matching. Touch switch dimmer with 4 brightness levels. Lamp brightness: 2,090 Lux at 30cm (12inch)

Height: 132cm Width: 53cm Depth: 21cm
Weight: 3.5kg
Cable Length: 1.8m (68.9)"
Recently Viewed Products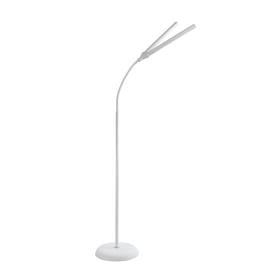 <ul><li>56 high-quality bright daylight LEDS-Provide accurate colour matching</li><li>Touch switch dimmer with 4 brightness levels</li><li>Lamp brightness: 2,090 Lux at 30cm (12")</li><li>Cable length: 1.8m (68.9")</li></ul>