RapidLash Eyelash Enhancing Serum 3ml
Overview
Experience thicker, stronger and longer looking lashes in just 8 weeks!*
Contains a powerful blend of Peptides, Biotin, Panthenol, Amino Acids, Soybean Oil and Pumpkin Seed Extract
88% experienced improvement in the appearance of lashes*
86% experienced fuller looking lashes*
86% experienced thicker, stronger and longer looking lashes*
Description
RapidLash Eyelash Serum contains a powerful blend of Peptides, Biotin, Panthenol, Amino Acids, Soybean Oil and Pumpkin Seed Extract to nourish and strengthen lashes, while helping to prevent premature fallout. With clinically proven results in just 8 weeks: 88% experienced improvement in the appearance of lashes*, 86% experienced fuller looking lashes* and 86% experienced thicker, stronger and longer looking lashes*. This innovative, high-performance serum formulated with advanced polypeptides helps enhance the appearance of lashes with a simple once a day application. Ideal for women and men with brittle, weak, thin or short lashes.

*Consumer study of 102 subjects over 56 days.
Directions for Use
Using the applicator brush, apply a thin line of RapidLash to the base of the lash line, as close to the natural lash line as possible. Just like you would apply liquid eyeliner. The eye should be completely clean of any makeup or eye cream. Use once a day in the evening, before bed.
Recently Viewed Products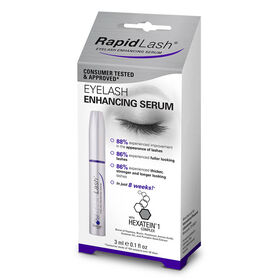 <ul><li>Experience thicker, stronger and longer looking lashes in just 8 weeks!* </li><li>Contains a powerful blend of Peptides, Biotin, Panthenol, Amino Acids, Soybean Oil and Pumpkin Seed Extract </li><li>88% experienced improvement in the appearance of lashes*</li><li>86% experienced fuller looking lashes*</li><li>86% experienced thicker, stronger and longer looking lashes*</li></ul>