Suitable Level
intermediate
Swedish Body Massage In-Person Course
https://www.sallybeauty.co.uk/training/beauty-training-courses/swedish-body-massage-in-person-course/145224_00001_16-JAN-2024.html
Suitable Level
intermediate
This course is for beauty therapists who have or are in the process of completing their Anatomy and Physiology training, and would like to offer body massage treatments to their clients. You will learn massage movements and how to apply them enabling you to complete a full body massage.

...
Read more
What to expect when booking this course
Within 48 hours of booking, you will receive a welcome email from the training provider to explain your training journey.
Recently Viewed Products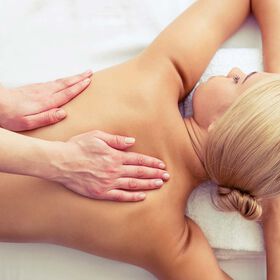 This course is for beauty therapists who have or are in the process of completing their Anatomy and Physiology training, and would like to offer body massage treatments to their clients. You will learn massage movements and how to apply them enabling you to complete a full body massage. <br> <br> <b> Top Features </b> <br><ul> <li> Demonstration and review of effective massage techniques and routines </li> <li> Overview of products </li> <li> Client consultation techniques, aftercare and contraindications </li> </ul> <br><b> Key Learnings </b> <br><ul> <li> Key theoretical knowledge behind the Swedish body massage technique </li> <li> The skills and knowledge required to safely and confidently perform a tailored Swedish body massage </li> <li> Health and safety knowledge to carry out the service confidently </li> </ul> <br><b> Additional Information </b> <br><ul> <li> Students must be at least 16 years of age </li> <li> Students are required to have previously obtained or be currently working towards an Anatomy & Physiology qualification </li> <li> Students are required to work on each other, and should be fit and healthy </li> <li> Students must bring the items listed below. Please note that there is no need to purchase more if you already have them. </li> <li> There will be an assessment at the end of this course </li> <li> Students will receive a qualification upon passing </li> <li> Training provided by The Nail & Beauty Training Academy </li> <li> Course accredited by IPHM & Professional Beauty </li> <li> Course duration: 1 Day, 10am - 3pm </li> </ul>