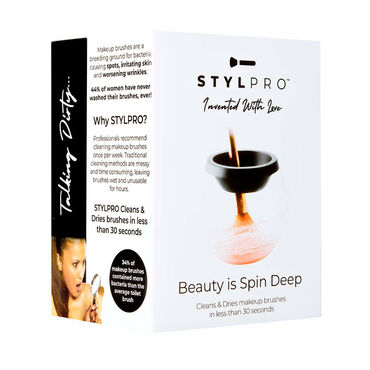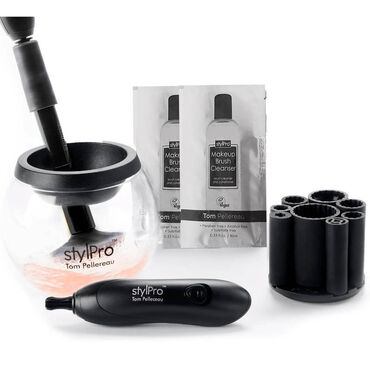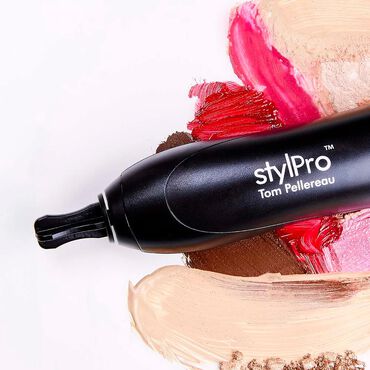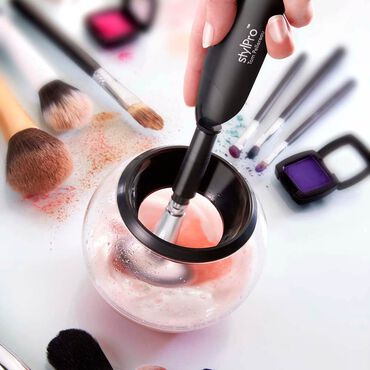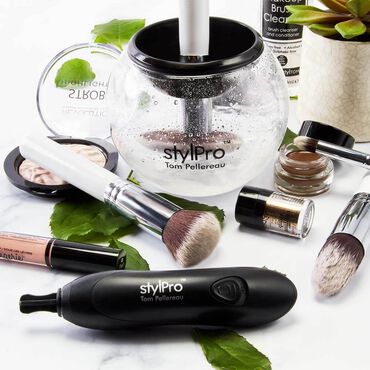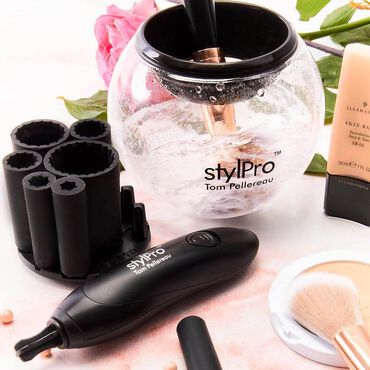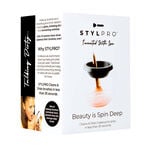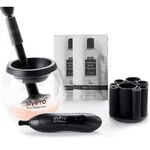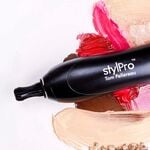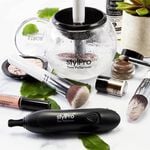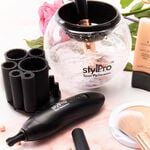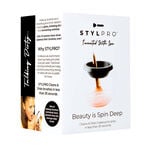 Scroll to Zoom
Pinch to zoom
StylPro
Description
Cleans and dries brushes in less than 30 seconds!
Makeup brushes are a breeding ground for bacteria causing spots, irritating skin and worsening wrinkles. A study found 34% of makeup brushes contained more bacteria than the average toilet brush*. In shocking results, 44% of women have never washed their brushes, ever! How should you clean that foundation brush? Professionals recommend cleaning makeup brushes once a week, but traditional cleaning methods are messy, time consuming leaving brushes wet and unusable for up to 24 hours. The StylPro makeup brush cleaner & dryer is an automatic 'washing machine' for your brushes, spinning them clean & dry in less than 30 seconds so they are ready to use straight away! Use the StylPro Brush Cleaner with the StylPro Vegan Makeup Brush Cleanser for the best results… we know you'll love it!

Includes: 8 x flexible silicone collars, collar stand, StylPro device, 2 x AAA batteries, Tritan unbreakable bowl, bowl neck, 2 x 10ml StylPro Vegan makeup brush cleanser sachets.

Invented with love by BBC Apprentice winner Tom Pellereau.
*In a study conducted by StylPro
Directions for Use
Select a collar to fit your makeup brush. Attach the brush to the STYLPRO device. Add STYLPRO Vegan Cleaner to the STYLPRO Tritan bowl (DO NOT add water). Gently dunk your brush in and out of the STYLPRO Vegan Cleanser. Turn on the STYLPRO device and spin the makeup brush clean in the bowl for 10 seconds. Lift the brush above the cleanser and spin dry for 10 seconds (please make sure you keep the brush inside the bowl when drying).
Ingredients
Isododecane, Argania spinosa (Argan) Kernel Oil, Vitis vinifera (Grape) Seed Oil, Triticum Vulgare (Wheat) Germ Oil.
Read the reviews
100% of customers liked this product
Excellent product would buy again.
We think you'll also love