Tweezerman Facial Razor Replacement Blades
Overview
Blades feature finely sharpened edges to gently remove facial hair
Safely removes the finest and smallest hairs
Stainless steel blades are sanitary, durable and easy to clean
For best performance, replace razor blades every 2 - 3 months or as needed; 4 replacement blades included          
Blades supplied in storage tube 
Description
Premium quality blades designed to fit perfectly with the Tweezerman Facial Razor. Safely remove unwanted facial hair at home and gently exfoliate the face.
Directions for Use
Pinch the rounded plastic edge and pull out from tool; If blade is stuck, slowly wiggle from side to side until loose. Slide new blade in and safely discard used blade.
Warnings
Handle razor with care, blade is sharp.
Recently Viewed Products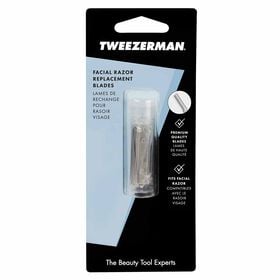 <ul><li> Blades feature finely sharpened edges to gently remove facial hair </li><li>Safely removes the finest and smallest hairs</li><li>Stainless steel blades are sanitary, durable and easy to clean</li><li>For best performance, replace razor blades every 2 - 3 months or as needed; 4 replacement blades included </li><li>Blades supplied in storage tube </li></ul>