2AM London Gel Polish Give Me Glitz Trio Kit
Overview
Contains no nasties
100% Pure Gel
Hema Free
2am is 100% Vegan Friendly
Glossy Gels lasting up to 3 weeks!
Description
Give me glitz, give me glam, be the highlight of the moment. The iconic glitter trio. Kit includes 3 x 7.5ml 2AM London Gel Polishes in shades Predrinks, Blinding Highlight and limited edition shade Hustler Baby.
Directions for Use
1. Sanitise hands and equipment before preparation.

2. Prepare the nail by pushing cuticles back. Use a cuticle pusher to make more of the nail visible. Use it to also remove dead skin from the nail plate and to help maintain even cuticles. The cuticle nippers can also be used to help get rid of any excess dead skin from around the nail.

3. Then file the nail to your desired shape.

4. Using a nail buffer, buff the shine off the nail plate to make sure the surface is smooth for application.

5. Cleanse the nails thoroughly with cleanser to remove any impurities, such as oils or dust particles otherwise this can cause the polish to lift prematurely.

6. Now apply a layer of base coat '2am First Base'. Apply a thin coat over the whole nail, then cure each nail under a LED lamp for 30 seconds to ensure the base coat has dried. Also, make sure you cap the free edge with the base coat to ensure that the polish does not lift from the edge of the nail.

7. Then shake your chosen 2am colour bottle like a polaroid picture

8. Apply two coats of your chosen 2am colour, curing 30 seconds between each coat. Apply a thin layer of each coat all the way to the edge of the nail. Make sure you cap the free edge when applying each layer.

9. Once you have applied the nail colour, apply your 2am 'Get On Top' non wipe topcoat and cure for 30 seconds. Make sure to cap the free edge also.
Ingredients
Acrylates Copolymer, Isopropyl Alcohol, Butyl Acetate, Dimethicone, Microcrystalline Wax, Mica, Iron hydroxide oxide yellow, Sodium aluminosilicate violet, BLACK 2, Diiron Trioxide, Titanium Dioxide
Warnings
Flammable. Not to be applied to the skin
Recently Viewed Products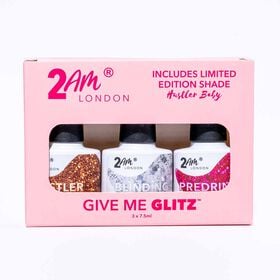 <ul><li>Contains no nasties</li><li>100% Pure Gel</li><li>Hema Free</li><li>2am is 100% Vegan Friendly</li><li>Glossy Gels lasting up to 3 weeks!</li></ul>