Online Trend Bridal & Event Hair Up Course
https://www.sallybeauty.co.uk/training/hair-training-courses/online-trend-bridal-and-event-hair-up-course/814144_00093_26-JUL-2022.html
814144
This trend-led course brings bridal techniques in line with current trends and fashions. Push back the classic, review and master bridal/event hair techniques through a live interactive webinar session with an expert educator.

Top Features
Prior to your live webinar you will ...
Read more
What to expect when booking this course
Within 48hrs of booking you will receive a welcome email from Training Solutions.

Recently Viewed Products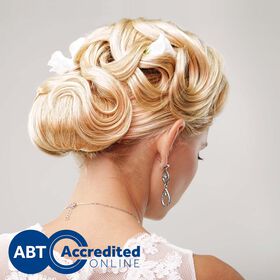 This trend-led course brings bridal techniques in line with current trends and fashions. Push back the classic, review and master bridal/event hair techniques through a live interactive webinar session with an expert educator. <br> <br> <b>Top Features</b><br> Prior to your live webinar you will receive access to an online learning portal to complete the following:<br><ul><li> Health & Safety </li> <li> Hair and scalp analysis, including consultation techniques and contraindications </li> <li> Client Consultation and managing expectations </li> <br> The live webinar practical session will cover:<br> </li> <li> Demonstrations and practical time on 4 styles including chignons and relaxed textured looks </li> <li> Hair preparation for firm hold and longevity </li> <li> Product recommendations, aftercare advice and price guidance </li> </ul><br> <b>Key Learnings</b><br><ul> <li> The skills and knowledge required to complete 4 trend-led bridal and event hairstyles </li> <li> Health and safety knowledge to carry out the service confidently </li> </ul> <br> <b>Additional Information</b><br><ul> <li> Students must be at least 18 years old </li> <li> A week before the webinar you will receive access to the online learning portal via email, this must be completed before your live practical session, we estimate this will take up to 90mins dependent on your pace</li> <li> 1 day 9.30am–1.30pm or 2pm-6pm via live webinar </li> <li> A minimum of 2 delegates are required to run a session, in the rare event of you being the only booking a week prior to the live webinar, you will be contacted to arrange a rescheduled session date</li> <li> Students are required to work on a human hair training head during the live practical session, no model required </li> <li> Students are required to have access to their own professional tool kit and purchase any additional items required, please select and purchase any items listed below that you do not have already. <b>PLEASE NOTE that some of the items may already be salon essentials so there is no need to purchase more if you already own them</b> </li> <li>Students also have the option to use the following on the webinar if they choose to, Salon Services Adjustable Manikin Tripod with Bag, Wildest Dreams Clip In Single Weft, Hair Crimper, Hot Rollers though these are not essential </li> <li> After your webinar you will have access to various reference video tutorials via the online learning portal valid for 1 year </li> <li> Upon completion you will receive an accredited e-certificate </li> </ul>