Caflon Regular White Stainless Steel-plated Piercing Stud 12 pack
Overview
Regular sized ear piercing studs - 4mm diameter
Surgical steel with stainless steel plating
For use with Caflon ear piercing devices
Part of a stunning range of studs
12 pairs individually wrapped in sterile packs
Description
A set of 12 pairs of regular sized (4mm diameter) ear piercing studs, stainless steel plating on a surgical steel nickel compliant material. Fastenings are of an A-clasp design, which engages during the piercing procedure.
Please note that due to the nature of this product, for hygiene reasons it is non-refundable.
Directions for Use
Use in conjunction with the Caflon Blu Piercing System to pierce the ears. For professional use only.
Recently Viewed Products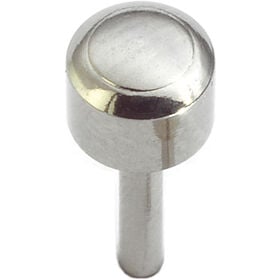 <ul><li>Regular sized ear piercing studs - 4mm diameter</li><li>Surgical steel with stainless steel plating</li><li>For use with Caflon ear piercing devices</li><li>Part of a stunning range of studs</li><li>12 pairs individually wrapped in sterile packs</li></ul>