Aromatruth Essential Oil - Black Pepper 10ml
Overview
Aromatruth Essential Oils
Black Pepper
Improve and enhance the quality of therapy products
Derived from different plants
Soothe, refresh, uplift, excite or generally promote a feeling of well being
Description
Aromatruth Essential Oils with black pepper improve and enhance the quality of therapy products in salons across the world. Derived from different plants, they can be used in a variety of ways to subtly soothe, refresh, uplift, excite or generally promote a feeling of well being.

Made from the finest quality 100% pure diluted oil, resulting in a comprehensive range.
Directions for Use
Dilute with the correct carrier oil before use.
Ingredients
Piper Nigrum, Limonene And Linalool.
Recently Viewed Products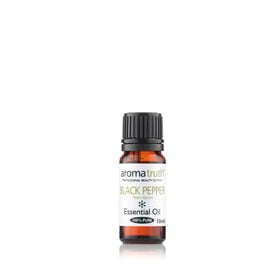 <ul><li>Aromatruth Essential Oils</li><li>Black Pepper</li><li>Improve and enhance the quality of therapy products</li><li>Derived from different plants</li><li>Soothe, refresh, uplift, excite or generally promote a feeling of well being</li></ul>