GESKE Sonic Warm & Cool Mask | 9 in 1
SAVE 20%
Markdown already applied

While stocks last
Please note that this Black Friday promotion cannot be used in conjunction with voucher codes.
Overview
All-in one solution for the ultimate spa experience that fits in your hand
Specially designed multi-temperature surface designed to fulfill the needs of your skin
Ergonomically shaped for ease of use
Warming or cooling sessions at optimal temperatures for radiant, heathy looking skin
Suitable for all skin types
Description
With a sleek and sexy design, the Sonic Warm & Cool Mask | 9 in 1 features the following innovative features and technologies that will grant you glowing perfection:

- Skin Scan & Personal Routine Guide powered by cutting-edge AI technology to ensure you get the most out of your device
- SmartSonic Pulsation Technology that gently massages your skin and supports your sessions
- Cryo Deep Cooling Revitalizing Technology that reduces puffiness and energizes the skin
- Youthful Glow Massage Technology - a 3-tiered miracle that lifts, firms and tones
- Pore-Opening Deep Warming Technology that unclogs your skin and preps it for your routine
- Full Facial Hyper-Infusion Technology that allows for deep absorption of active ingredients of skincare products
- Full-Spectrum LED Light Technology that emits lights at different wavelengths to stimulate skin nourishment
- High Efficiency Depuffing System that visibly reduces puffiness, especially around the eyes
- Eye-Nose Area Targeted Design for precise cleansing and massage in the hard-to-reach areas

Oh and did we mention? The Sonic Warm & Cool Mask | 9 in 1 features the full spectrum of LED lights, with each LED color benefitting your skin in a special way. Treat your skin to a different color each day!

Powered by cutting-edge AI technology, the GESKE German Beauty Tech App's powerful algorithm analyzes your skin and recommends devices that are perfectly tailored to your skin's needs. Set your Skin Goals and follow thousands of video-guided training Sessions to get the most out of your device. Dive into the never-before-seen experience of observing your skin inching towards visible perfection with GESKE.

You're probably wondering how all of this is rolled into one device. Well, don't just take GESKE's word for it! The Gods of fashion at ELLE Magazine have endorsed GESKE as the ELLE No.1 Beauty Innovation. Let the resulting satiny smooth skin speak for itself - get your Sonic Warm & Cool Mask | 9 in 1 now!
Recently Viewed Products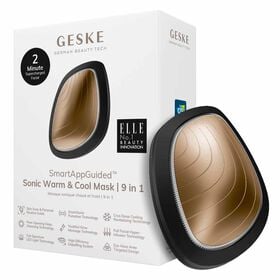 <ul><li>All-in one solution for the ultimate spa experience that fits in your hand </li><li>Specially designed multi-temperature surface designed to fulfill the needs of your skin</li><li>Ergonomically shaped for ease of use </li><li>Warming or cooling sessions at optimal temperatures for radiant, heathy looking skin</li><li>Suitable for all skin types</li></ul>