Wunderbar Cream Peroxide 6%/20V 120ml
Important information:
Please note packaging may vary
Overview
perfect match for Wunderbar colour products
ensures brilliant and long-lasting results
optimal hair condition
Description
This quality cream peroxide is the perfect match for wunderbar hair color cream. It offers best-inclass results, while its supporting ingredients result in best hair protection. Available in 5 strengths: 1,9% (6 vol.), 3% (10 vol.), 6% (20 vol.), 9% (30 vol.) and 12% (40 vol.).
Directions for Use
Mixing ratios: Natural/Fashion shades 1+1, Special Blonde/Highlift shades 1+5
Ingredients
AQUA (WATER), HYDROGEN PEROXIDE, CETEARYL ALCOHOL, PHOSPHORIC ACID, SODIUM LAURYL SULFATE, SALICYLIC ACID, DISODIUM PHOSPHATE, TETRASODIUM EDTA.
Warnings
Contains hydrogen peroxide. Avoid contact with eyes. Rinse eyes immediately if product comes into contact with them. Wear suitable gloves. For professional use only. Follow use directions. Protect against direct light and store in a cool place. Do not use on hair previously colored with metal dyes. Do not use metal bowl/stirrer for mixing. Immediately rinse any splashes on the skin or clothing. Do not exceed the processing times stated. Rinse hair well after application. Use mixture immediately. Keep out of reach of children.
Recently Viewed Products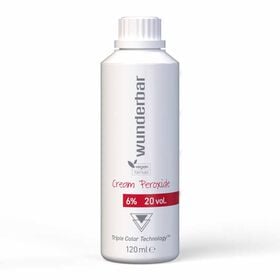 <ul><li>perfect match for Wunderbar colour products</li><li>ensures brilliant and long-lasting results</li><li>optimal hair condition</li></ul>