Hive of Beauty Warm Honey Roller Wax Refill Cartridges, Pack of 6 x 80g
Overview
Roll On Warm Wax Refills from Options by Hive
For hair removal
For face and body
Use with strips
Six 80g bottles supplied
Description
A pack of roll-on warm wax refills from Options by Hive for depilatory use. Offering a classic all-purpose formula, this wax can be used on all facial and body areas. Use with strips for the fast and efficient removal of unwanted hair. Suitable for all skin types.
Directions for Use
Attach a roller head to the top of the cartridge and turn until tight, taking care not to over-tighten. Place cartridge and attached roller head into heater; when heated, remove. When starting a new cartridge, it is important to turn it upside down to allow product to flow smoothly into the roller head. 1. Holding the cartridge and roller by the sides, roll in direction of hair growth. Angle the cartridge at about 45 degrees to the surface of application and apply one thin coat. 2. Return the cartridge and roller to the heater. 3. Press a depilatory strip to the treatment area. 4. Pull off the strip with a firm action against the direction of hair growth. Treatments can be applied to the skin before and after the procedure. Tip: Do not squeeze the cartridges.
Ingredients
Glyceryl Rosinate, Colophonium (Rosin), Paraffinum Liquidum (Mineral Oil), Hydrogenated Coconut Oil.
Warnings
Patch test a small area before use. May contain colophonium.
Recently Viewed Products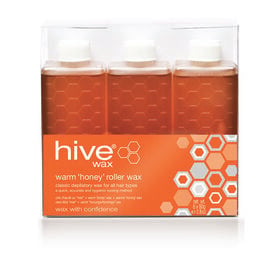 <ul><li>Roll On Warm Wax Refills from Options by Hive</li><li>For hair removal</li><li>For face and body</li><li>Use with strips</li><li>Six 80g bottles supplied</li></ul>