Schwarzkopf Professional Igora Vario Bleach Powder Lightener - Plus 450g
Save €10 when you spend €50 with code SPRING22
Spend €50 or more for offer to apply

Valid in conjunction with other offers!

Redeem by applying code SPRING22 at checkout
This offer is valid until the 30th June 2022. This offer excludes Daylight Equipment and Training Courses. Other exclusions may apply. To read the full Terms & Conditions, please Click Here.
Important information:
Schwarzkopf are in the process of changing their packaging for this product. Due to this, you may receive either current or old packaging. Unfortunately, you will not be able to choose which you receive.
Overview
Blue dust-free Powder Lightener
Delivers 7 levels of lift
With integrated Fibre Bond Technology to enforce bonds within the hair fibre and reduce hair breakage significantly
Maximum neutralisation performance thanks to cool pigments
Description
A bestselling bleach amongst professionals, the Schwarzkopf Igora Vario Bleach Powder Lightener Plus guarantees a perfect lighting with healthy results. This blue dust-free powder provides up to seven levels of lift with an Integrated Fibre Bond Technology which enforces the bonds in the hair fibre and prevents breakage even in the finest of hair. The powder also contains cool pigments that will prevent unwanted yellows and leave any blonde shades bright yet nourished. For those applying at home, this powder ensures a mixture with a crème consistency which makes for an easy and smooth application for any bleaching technique.
Key benefits:
Blue dust-free powder provides up to seven levels of lift
Integrated Bond Enforcing Technology prevents breakage and bonds hair
Contains cool pigments that neutralises yellows
Creamy texture that's easy to apply
Ingredients
Sodium SilicatePotassium PersulfateAmmonium PersulfateMagnesium Carbonate HydroxideSodium PersulfateParaffinum LiquidumSodium MetasilicateCellulose GumAcrylates CopolymerTetrasodium EDTASilicaSuccinic AcidCalcium StearateSodium HexametaphosphateLysine HClParfumArgininePotassium SulfateAmmonium SulfateGeraniolCI 77007
Warnings
Follow directions and safety instructions on enclosed leaflet. Avoid contact with eyes. Rinse immediately if product comes into contact with them. Wear suitable gloves. Keep out of reach of children. Do not use to dye eyelashes or eyebrows. Close tight. Store in a cool and dry place. Use in well ventilated places. Do not use on damaged hair. IF DURING LIGHTENING CLIENTS EXPERIENCE: - any stinging or burning and/or rash, rinse immediately and discontinue use as this may be an indication of more serious reaction. Do not lighten their hair again and advise the client to consult a doctor or seek medical advice. IF AFTER USE OR ON THE FOLLOWING DAYS the client experiences problems such as skin or scalp itching, skin or scalp rash, swelling of eyes/face, blistering and/or skin or scalp weeping have client seek immediate medical attention and contact the manufacturer. PRECAUTIONS: This product contains ingredients which may cause severe eye irritation and possible permanent eye injury. If the lightening mixture gets into the eye, flush eyes immediately with a large amount of lukewarm water and seek medical advice. Contact the manufacturer. If the client wears contact lenses during application and any product gets into their eye, have them remove the contact lens first, then flush immediately with a large amount of lukewarm water and seek medical advice. Do not inhale or ingest the product. Avoid unnecessary skin contact. Do not use if their hair has been coloured with henna or metallic dyes. Remove all metal objects such as clips and hair pins from hair before lightening and keep them away during lightening. Do not use metal tools. Do not exceed the processing time.
Recently Viewed Products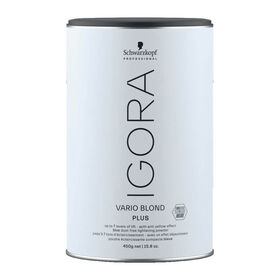 <ul><li>Blue dust-free Powder Lightener</li><li>Delivers 7 levels of lift</li><li>With integrated Fibre Bond Technology to enforce bonds within the hair fibre and reduce hair breakage significantly</li><li>Maximum neutralisation performance thanks to cool pigments</li></ul>