Crazy Color High Lift Bleaching Kit
Overview
Bleaching Kit from Crazy Color
Pre-lighten hair ready for colouring
Lifts 6+ levels
Gives a pale blonde base
For maximum vibrancy
Description
Take your color to the next level! Use the Crazy Color® Bleaching Kit to pre-lighten your hair before using any of our semi-permanent products for maximum results.
Kit Contains:
Disposable Gloves
Mixing Bowl
Spatula
Tint Brush
2 x Bleach Sachet (25g)
100ml Cream Peroxide 30. Vol (9%)
Multilingual Instructions

The shade achieved and length of duration is dependent on natural hair color, porosity, condition, and thickness. For long roots or hair you may need two kits. Always use this product in accordance with the provided instructions.
Directions for Use
ALWAYS READ CAUTIONS & INSTRUCTIONS FULLY BEFORE PRODUCT APPLICATION.
It is recommended that you always complete a strand test prior to use as this product may cause irritation. This will also indicate the development time required to achieve your desired results. Please refer to pack for strand test instructions.

PREPARATION & APPLICATION
1. Wearing the gloves provided, open the enclosed bleach sachets and empty full contents into the mixing bowl provided. (Avoid skin contact and inhalation of powder).
2. Add the developer to the bleach powder and mix using the application brush until creamy. (Guide: 100ml Peroxide to 50g bleach).
3. Apply product evenly to dry, unwashed hair. Allow to process.

DEVELOPMENT TIME
Your natural hair color will determine the development time required. Please refer to the pack for a guide to timings.
After 20 minutes, check a section of hair every 10 minutes to assess progress. To do this, simply remove the mixture from test section using a damp tissue. If you have not achieved your desired shade re-apply mixture and continue processing.
Continue to check every 10 minutes in order to avoid over processing.

RINSE
When you are satisfied with shade, shampoo hair thoroughly and rinse extensively with warm water (Avoid contact with eyes at all times: see cautions).

Ingredients
Cream Peroxide 30 Vol: Aqua (Water),Hydrogen Peroxide,Cetearyl Alcohol,Ceteareth-30,Oleamide DEA,Glycerin,Sodium Salicylate,Acetic Acid,Sodium Stannate,Disodium Pyrophosphate,Phosphoric Acid. Dust Free Bleach: Potassium Persulfate,Sodium Metasilicate,Ammonium Persulfate,Sodium Stearate,Cyamopsis Tetragonoloba Gum,Paraffinum Liquidum,Solanum Tuberosum Starch,Silica,Sodium Persulfate,EDTA,CI 77007
Warnings
Contains Hydrogen Peroxide. Always wear suitable gloves - plastic or rubber. Do not apply peroxide directly to hair. Avoid contact with eyes. Rinse immediately, and for at least 10 minutes, if product comes into contact with them. If irritation occurs, obtain medical advice. ALWAYS READ CAUTIONS & INSTRUCTIONS FULLY BEFORE PRODUCT APPLICATION.
Recently Viewed Products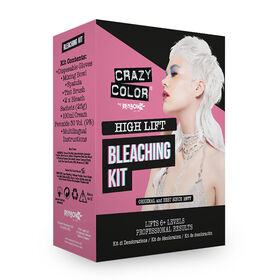 <ul><li>Bleaching Kit from Crazy Color</li><li>Pre-lighten hair ready for colouring</li><li>Lifts 6+ levels</li><li>Gives a pale blonde base</li><li>For maximum vibrancy</li></ul>