Chroma Gel Polish Sculpting Gel Bonder 15ml
542695
Overview
For use with Chroma Gel Sculpting Gel
Anti-lifting formula
Delivers extra bonding power
Description
Chroma Gel Chroma Gel Sculpting Gel Bonder is designed for use with Chroma Gel Sculpting Gel to deliver extra bonding power.
Directions for Use
Application: 1. Paint Chroma Gel Sculpting Gel Bonder directly on to the natural nail. 2. Apply Chroma Gel Sculpting Gel
Ingredients
INGREDIENTS:Ethyl Acetate,Isopropylidenediphenylbisoxyhydroxypropylmethacrylate,HEMA, Hydroquinone,p-hydroxyanisole
Warnings
WARNING: For professional use only. Read directions for use. Avoid contact with skin. In case of eye contact, immediately wash out the eye with plenty of water for at least 15 minutes holding the eye open. Seek medical attention. This product is intended for external use only and should not be ingested. Wash skin with soap and water to remove any incidental contamination. Not for use by children.
Recently Viewed Products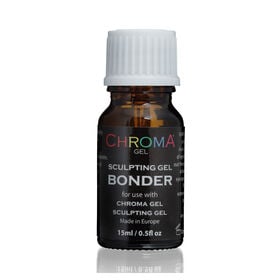 <ul><li>For use with Chroma Gel Sculpting Gel</li><li>Anti-lifting formula</li><li>Delivers extra bonding power</li></ul>