Chroma Gel UV & LED Sculpting Gel 15g
542694
Overview
Clear builder gel that can work with forms, tips and natural nails
Perfect for reinforcing, sculpting and creating more flexible and resilient nails
UV and LED curable
Soak off removal
Description
Chroma Gel Chroma Gel Sculpting Nail Gel is a clear builder gel that can work with forms, tips and natural nails. A base and a builder gel in one, it is perfect for reinforcing, sculpting and creating more flexible and resilient nails. Use with Chroma Gel Sculpting Gel Bonder for maximum adhesion. Chroma Gel Sculpting Gel can be soaked off in acetone.
Directions for Use
Sculpting Gel is a soak off builder gel, for professional use only. Prep the nail, paint on Sculpting Gel and cure. Cure time: LED 60 sec. UV 120 sec. Seal with Chroma Gel Finishing Touch.
Ingredients
INGREDIENTS: di-HEMA trimethylhexyl dicarbamate, HEMA Hydroxypropyl methacrylate, Isobornyl methacrylate, Hydroxycyclohexyl phenyl ketone, Hydroquinone, p-hydroxyanisole, CI 60725
Warnings
Warning: Avoid all skin contact, if redness or other signs of adverse reaction occur, discontinue use immediately. Keep tightly sealed. Keep out of reach of children. Keep away from direct UV Rays. In event of eye contact, flush with water and seek medical attention. Handle and open container with care.
Recently Viewed Products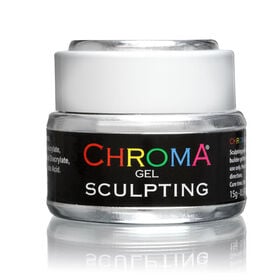 <ul><li>Clear builder gel that can work with forms, tips and natural nails</li><li>Perfect for reinforcing, sculpting and creating more flexible and resilient nails</li><li>UV and LED curable</li><li>Soak off removal</li></ul>