Just Wax Essential Waxing In-Person Course
https://www.sallybeauty.co.uk/ie/training/beauty-training-courses/just-wax-essential-waxing-in-person-course/031667_00145_31-JAN-2024.html
This course is essential for anyone wishing to offer this very popular beauty treatment or to refresh their knowledge and improve waxing proficiency. The emphasis is placed on acquiring practical competence using Award Winning Just Wax Warm Wax.
Top Features
Read more
What to expect when booking this course
You will receive a Welcome Email from the training provider to explain your training journey within 48 hours of purchasing your training.
Recently Viewed Products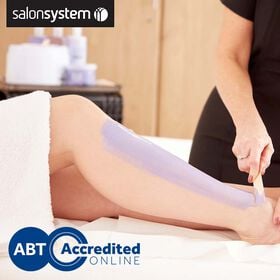 This course is essential for anyone wishing to offer this very popular beauty treatment or to refresh their knowledge and improve waxing proficiency. The emphasis is placed on acquiring practical competence using Award Winning Just Wax Warm Wax. <br> <br> <b>Top Features</b><br> <ul><li> Salon hygiene, sanitation/health and safety </li> <li> Client consultation, contra-indications and client care </li> <li> Client treatment step by step video </li> <li> Full understanding of the Just Wax brand and its products for warm waxing </li> <li> The skills and knowledge required to successfully perform a warm waxing treatment </li> <li> Health and safety knowledge specific to waxing, aftercare advice for the client and troubleshooting </li> </ul> </li> </ul><br> <b>Key Learnings</b><br>Your in-store practical face to face training will cover: <ul> <li> Guided learning using strip and spatula waxing procedures of full leg, bikini, underarm, brow tidy (not shaping) and upper lip </li> <li> Unique Speed Waxing Technique - half a leg in 4 minutes </li> </ul> <br> <b>Additional Information</b><br><ul> <li> Students (and any models) must be at least 18 years of age </li> <li> You will work on each other for the practical session so please ensure you have minimum hair growth of 3mm</li> <li> Please ensure you have no contra-indications to the treatment. Should you not be able to have the treatment due to medical reasons you can arrange to bring a model, please contact Training Solutions direct to arrange this </li> <li> All products and equipment are supplied for the duration of the course by your educator. However if you wish to use your own or purchase your own for use upon completion of the course, please refer to the kit listing in the booking form </li> <li> After your course, you will continue to have access to the online learning portal, valid for 1 year </li> <li> Upon completion you will receive an accredited e-certificate </li> <li> Course duration: 1 day, 10am – 2pm </li> <li> 4 CPD hours & 4 CPD points </li> </ul>