Hive of Beauty Hand Held Roller Wax Cartridge Heater
Overview
Hand held roller wax heater
From Options by Hive
Light-weight (100g)
Ergonomic Design
Description
Roller wax treatments are ideal for smaller or mobile salon businesses, and the Hand Held Roller Wax Heater from Options by Hive is the premier roller wax product. Its ergonomic design means easy use and application of wax and its light 100g weight makes it portable and compact. Usable with any of the Options by Hive roller wax range, this hand heater is the perfect item to start a new treatment range for your salon operation. Fits 100g cartridges.
Directions for Use
We recommend that the heater is switched on approx. 30 minutes before treatments are due to commence, to allow the wax to reach the correct temperature and consistency.
1. Insert depilatory cartridge into the heater chamber.
2. Place Hand Held Heater into base unit. If you are using multiple units they should be linked together at this point.
3. Plug into the mains power supply.
4. Turn on the unit using the on/off button. The power indication light will light up.
5. Rotate the temperature regulator control switch to position 6.
6. Leave the unit for 30-40 minutes to heat up, depending on ambient temperature.
7. To increase temperature move the dial clockwise, to reduce temperature move the dial anti clockwise. Adjust the temperature accordingly to produce an even flow of wax.
8. Following this you may now commence treatment. It is recommended that the therapist tests the temperature of the wax prior to treatment.
9. Leaving the cartridge in the heater, turn upside down, allowing the wax to flow into the roller head. Holding the unit at approx. 45 degree angle, apply the wax in the direction of the hair growth. Continue by following normal treatment procedures.
10. When not in use, return the heater to the base station to reheat.
11. After treatment, change or clean each cartridge head with Options by Hive Wax Equipment Cleaner Wipes.
Warnings
Never have the heater switched on when there are no cartridges inserted.
Recently Viewed Products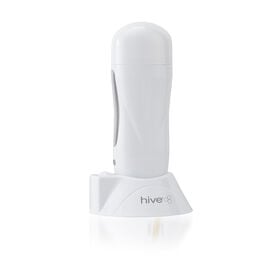 <ul><li>Hand held roller wax heater</li><li>From Options by Hive</li><li>Light-weight (100g)</li><li>Ergonomic Design</li></ul>