Eylure Nipple Concealers 1 reusable pair
Overview
Easy-to-use, natural-looking nipple concealers
Contains one pair, reusable up to ten times
Adhesive sticks to body and is easily removed
Prevents embarrassing fashion slip-ups
Made from natural feeling silicone
Description
An inexpensive, must-have item your customers will ask for time and time again. Keep some in view at checkouts to promote impulse purchasing. A fail-safe solution to the dreaded fashion faux-pas every girl needs, designed to create a smooth line under the sheerest of garments.
Directions for Use
To apply: ensure skin is free of oils, fragrance and powders. Peel off backing material and apply to nipple, keeping the backing safe.
To Remove: peel away from nipple and reapply backing material. This will ensure the product remains tacky and reusable.
Recently Viewed Products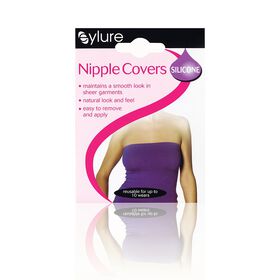 <ul><li>Easy-to-use, natural-looking nipple concealers</li><li>Contains one pair, reusable up to ten times</li><li>Adhesive sticks to body and is easily removed</li><li>Prevents embarrassing fashion slip-ups</li><li>Made from natural feeling silicone</li></ul>